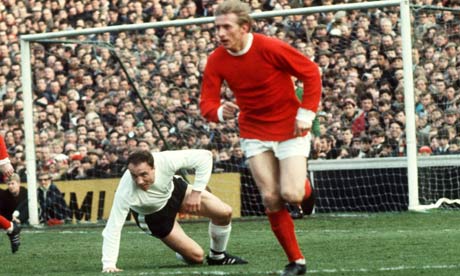 The Manchester United manager Sir Alex Ferguson has revealed he idolised Denis Law when he was a player, whilst United stars such as Ryan Giggs, Gary Neville and Darren Fletcher – who chose Fernando Redondo – have also named their footballing heroes.
A statue of Law stands outside Old Trafford alongside those of Sir Bobby Charlton and the late George Best. It is a permanent reminder of the gifts the Scotland striker who scored 237 goals in 404 appearances for United.
Ferguson believes Law, who is only two years older than him at 69, deserves to be revered. He told the club's magazine, Inside United: "Denis Law was my hero as a player. I idolised him. When I first met him I was so excited. It was at a game in Paris, he had played in the first half and we went for a cup of tea afterwards.
"I thought: 'This is it, I've made it, I'm having a cup of tea with Denis Law!' For me, he epitomised everything a Scotsman is about. He was daring and courageous, he had that bravado about him and he had style. He was a truly fantastic footballer."
Apart from Ferguson, United's senior squad disclosed in the magazine the names of their heroes. Giggs, Rio Ferdinand, Wayne Rooney and former striker Carlos Tevez all went for Diego Maradona. Giggs said: "That goal he scored against England – not that Hand of God goal – was absolutely amazing."
The club captain Neville named Bryan Robson as his hero. "I always think of him giving everything for the cause at the defensive end of the pitch and then throwing everything at the ball to get it in the back of the net at the other end," he said.
Former Argentina midfielder Redondo was the surprise choice of Fletcher. "I loved the way he played, how he sat in midfield and controlled the game, " said the Scotland international.